IPS did a quick, professional, and efficient moving job for our family. They handled our items with care and were friendly. Recommend.
Best moving experience I've ever had. If you are looking for a professional, courteous and quick move, look no further. From the moment I called to get a quote from John, I knew I was in good hands. Carlos (foreman) and his team, Manny, David and Oscar were amazing. They handled our belongings with care and enabled us to have a stress-free move. I will recommend this company to all my friends & family and would use them again in a heartbeat. Thank you IPS for doing all the heavy lifting.
I had a great experience with IPS when moving in Manhattan. From the start, IPS was responsive and professional as I was receiving quotes and planning the move. They had the best pricing I found and a great customer experience. Once it was time to move, 4 movers came over (led by Rome) and were extremely friendly, careful, and efficient. We were moving into a difficult walk-up, however, they put all effort forth to get it done quickly to save us money while still taking great care of the valuables. Overall, the move was significantly easier than expected because of them.
I have used IPS movers for two of my moves! Everything from the people who answer the phone at headquarters to the men who moved our whole apartment everyone is SO KIND AND RESPECTFUL. This is my first google review for a reason. They work hard and fast and if I had to move again tomorrow I would only call IPS. The team that came and helped us ( Carlos, Jose Luis Brandon and Luis) made us feel calm and collected on such a stressful day! Very thankful for them and taking such good care of ALL our items. They were going to get the job done no matter what! Also love that they check in multiple times before the big day! Just making sure that everything is good to go! Needed that.
Everyone was very profession from customer service representative to the movers who were Freddy, Carlos, and Jose Luis. They gave me a price that fit my budget and date that fit my schedule. If I ever move again, I would defiantly use their service.
Luis and his team provided so much care to help my mom with her moving needs. Highly professional and caring.
They came on time (a few minutes before actually) and started working right away. They were very quick and efficient. Got to our new location pretty quickly and placed the furniture without a single scratch. They were all extremely friendly and responsive. The cost actually came out to be a hundred dollars less than what I was quoted. Overall, very good quality! 10/10 would recommend!
Emily Oldenettel
2021-10-20
They were so efficient and very professional! They called saying they would be over in 25 minutes, which they were, and then we went through the paperwork and two hours later it was all done. Carlos and his team were so fast. It was a pleasure and I will certainly recommend them for anyone needing moving help.
Christopher Nattrass
2021-10-14
IPS moved us last week from Boerum Hill to Crown Heights and they did an awesome job. I contacted a number of moving companies to get quotes; IPS was the only one to have a representative willing to come over and give us a careful estimate. John was kindness and courtesy personified. When our plans changed at the last minute he was understanding and accommodating. We had a lot of books to move. IPS scheduled a day of packing followed by a day of moving. The packing team was careful and thorough. The moving crew the next day was a Dream Team and they packed up the trucks quickly and efficiently. Special thanks to Luis and Bernard for moving our heavy sofa bed down a narrow stairwell without a murmur of complaint. Brandon, Kevin, Oscar and John also did a fantastic job. I would definitely hire IPS the next time we have to move. Their pricing was transparent and there were no surprises or hidden extras. The moving crew were hard-working, personable and honest. THANK YOU, guys!
Amazing! Great communication, Pablo and his team handled everything with care. Highly recommend and will definitely use them for my next move
Google rating score: 4.9 of 5, based on 155 reviews.
WHAT MAKES US SO SPECIAL?
RELOCATION MADE SIMPLE
IPS NYC Movers is a small moving operation based in queens. We believe our smaller model allows us to provide a more exclusive service. With a smaller fleet we are able to manage our employees and company in such a way that allows us to produce a very controlled and high quailty service.
GOLD STANDARD OF MOVING
Our hiring and training program produces hard working, knowledgeable, efficient, and courteous professionals. We make relocation simple by providing the Gold Standard in moving.
IPS NYC MOVERS – THE OBVIOUS CHOICE
Here at IPS NYC Movers, we have mastered the art of moving. We provide our customers the highest quality services that include moving, packing, cleaning, storage, and pest remediation. IPS NYC Movers will be there for you every step of the way!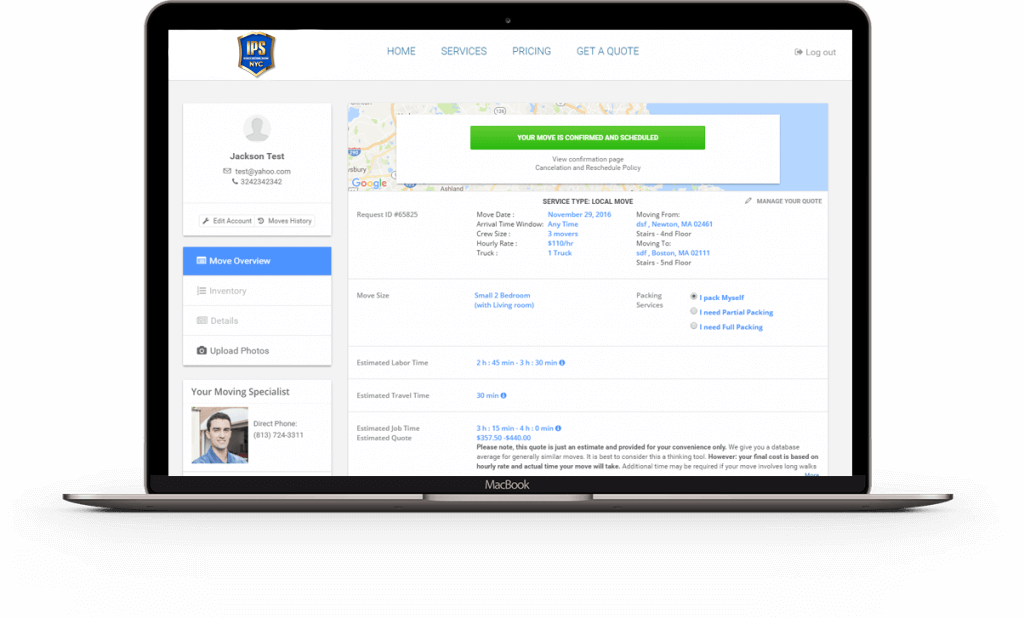 A one-click moving cost calculator
An accurate and free moving estimate produced with the latest technology.
Simple online reservation
A dedicated move coordinator assigned to work closely with you. A minimum of two calls prior to your move to make sure that you are fully prepared.
Request Page
Inventory, Details, Chat, Information about move, confirmation, contract, terms, cancelation policy and etc.